The New York Times' recent opinion piece on education explores how the pandemic is helping us to think about students and education in more holistic ways. Schools have had to pivot quickly and many have responded in incredible ways, but what has become glaringly evident is that focusing on rote learning and standardized education leaves the more human qualities behind. Relationships are critical for deep learning and engagement.
Read more here.
According to NPR, some doctors and public health advocates say there are powerful arguments for in-person schooling, particularly for younger students and those with special needs.
"Children under the age of 10 generally are at quite low risk of acquiring symptomatic disease," from the coronavirus, said Dr. Rainu Kaushal of Weill Cornell Medicine. And they rarely transmit it either. It's a happy coincidence, Kaushal and others said, that the youngest children face lower risk and are also the ones who have the hardest time with virtual learning.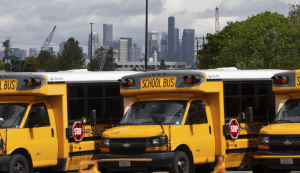 Should the US reopen schools or continue teaching remotely? What's at stake: An unknown number of lives, the futures of tens of millions of children, the livelihoods of their caregivers, the working conditions of millions of educators and people's trust in a fundamental American institution.